The show opens in less than three weeks, and as we speak, around 180 exhibitors are busy getting ready to show you their new ranges, artisan produce, state of the art equipment, and much more. They've been busy over the last year too! There's a lot to tell you about, so we hope you're sitting comfortably…and we'll begin! 🙂
Skinner's Brewing Company (Stand G35) will be promoting their 2 latest products at the show. Porthleven is more than just a Cornish holiday town – it's the name of one of Britain's most famous surfing spots and the inspiration for their CAMRA-winning premium, fresh, hoppy pale ale. Their Porthleven 'Untameable pale ale' (4.8%) now comes in a 330 ml can. The iconic Porthleven surf break is legendary amongst adrenaline-seeking surfers who rave about the un-tameable 20-foot-plus waves which break over the barnacle-encrusted reef off the tip of Cornwall's south coast. Their 'dry hopped lager' called Towans (4.4%) now comes in bottle and keg. This unique lager honours Cornwall's coastal "towans", or sand dunes. The Atlantic winds and tides that shaped these rugged hills also inspired their brewers as they crafted Towans' powerful taste, refreshing aromas and foamy white head. Like Cornwall and its people, it is born of the sea and the maritime climate, and evokes the tastes, sights and mood of the region.
Callestick Farm Ice Cream (Stand E13) recently won the Western Morning News Award for family business of the year and was highly commended in the Small business of the year and Business of the year awards. In the last year they have also won in a Chefs Choice award for their clotted cream vanilla ice cream, and Great Taste Awards, Taste of the West awards, Good Food awards etc. They have also secured a deal distributing to China and they are also launching a range of ice cream and sorbet with Levi Roots. Their Champion Cornish ice cream has been made for generations to their original family recipe, with fresh milk from their own grass fed herd of 380+ Jersey x Friesian cows that graze naturally here on their farm.
Aloha 65 (Stand K10), is a fun new spirit with a difference. It's not gin, it's not rum, it's Aloha! – a fun and truly versatile, all-natural, pure grain spirit infused with fresh pineapple, lemon, ginger, scotch bonnet chillies and a handful of other carefully selected herbs and spices. The original idea for the Aloha spirit was born in an American surf bar…and was formulated and created in that bar by Aloha 65's very own Stephen Thorp, a British ex-pat bar owner and spirit aficionado. Stephen experimented with various all-natural alcoholic fruit infusions, naming them after local surfers. One, in particular, proved popular. A carefully balanced blend made from the tropical fruits that were on his doorstep – with a kick of spice to warm the soul. This blend was such a runaway success with the local crowd that Stephen decided to refine it (it's taken 65 recipes to get there!), and, finally, bottle it. And so here it is: Aloha 65; completely unique and waiting to be discovered by you.
Producers of artisan ice cream and sorbet, handmade in Cornwall, Treleavens Luxury Ice Cream (Stand H42) have won several awards for their ice cream including 2 gold stars at the Great Taste Awards for their Passion Fruit Sorbet and one gold star for their Double Chocolate Cherry Ice Cream. They use milk from Cornish Cows, Italian flavour bases and freshly frozen fruits plus as little air as possible to keep the ice cream dense and crowded with flavour. Their production manager has been busy in the development kitchen creating new flavours for 2020 and as such they will be increasing their range of vegan ice cream along with introducing a couple of new dairy ice cream flavours too. Visit their stand to find out what they are and have a taste!
The votes are in and teapigs (Stand E35) are proud to announce they were awarded an impressive 18 Great Taste Awards in 2019. All of teapigs' teas are carefully selected and slurped by Louise Cheadle, teapigs' co-founder and chief tea taster who has over 15 years of professional tea tasting experience. Also last year's hot weather very clearly highlighted the need for hydration with consumers demanding natural, low sugar drinks that deliver on flavour. To make sure everyone's thirst stays quenched this summer, teapigs are launching their brand new range of cold brew infusions as an easy, quick and refreshing way to pep up your water. teapigs' range of whole leaf tea temples are ALREADY plastic free and they are the first tea brand to be awarded the Plastic-Free Trust Mark by A Plastic Planet. Their teas come in different formats to suit all business needs. They also offer teaware, tea training and lots of POS materials.
Purple Planet Supplies (Stand J23) is a nationwide company servicing customers and businesses of all sizes up and down the country. They pride themselves in putting their customers needs first, providing plastic free products, and have a range of new double wall plastic free coffee cup products, as well as some their gallery designed embossed hot cups. They are official distributors for Vegware products so are able to offer a wide range of catering disposables all of which can be disposed of along with your food waste. All of their products are certified fully compostable which means that in industrial composting facilities they will break down and return to compost in less than 13 weeks. As a family business, they can offer the same level of service that you would want your customers to receive. Their knowledgeable team are always happy to offer advice to ensure you get the products.
In 2019, 32% of businesses suffered a cyber attack or breach. These incidents can cause huge financial, reputational, and emotional damage, but there are steps you can take to protect yourself. New to the show this year, the South West Regional Cyber Crime Unit (SWRCCU) (Stand J31), will be on hand over the 3 days offering free, straightforward Cyber Security advice to organisations of all sizes and sectors. The SWRCCU are part of a Regional Police Unit and tackle cyber dependent crimes impacting organisations across the South West. The unit have a proactive 'Protect' department whose role is to help businesses understand the importance of cyber security and offer impartial, nationally recognised advice to help organisations build up their cyber resilience. Go along to stand J31 for free guidance, giveaways and games. Staff will be on hand to talk to you about your organisations Cyber Security, and run through the range of presentations and workshops they run to support organisations.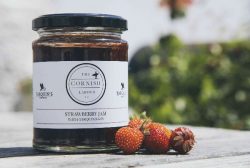 This will be The Cornish Larder's (Stand J3) first year at the show and they couldn't be more excited. The Cornish Larder began life in 2018 thanks to a young Cornish Chef, Jake Kendall. They produce preserves & sauces celebrating Cornish produce, and all their preseveres are completely hand crafted. They will be launching their brand new catering 1.2kg sized tubs at the event with a special *event only* offer! These will be perfect for restaurants and hotels. They will also be releasing two new retail flavours – Caramel Sauce with Cornish Sea Salt, and Chilli Jam (made in collaboration with The Cornish Chilli Co).
The Coffee Boss (Stand E29) has just won 1st place award for Best Innovation Category at the Hemp and CBD show for their world's first CBD Coffee Machine. The Coffee Boss are a nationwide company with over 25 years of experience in the design, supply and installation of fully automated bean to cup coffee machines. They are proud of their delicious coffee blends which are innovative, industry leading and win awards.
Imagine changing the world for the better, just by sipping a G&T. Well Saint Ives Liquor Co's (Stand K45) partnership with Rising Forests is helping to do just that. Whether it's using biodegradable materials wherever they can, recycling, or using as many local ingredients as possible, they're always looking for ways to be more environmentally friendly. And now eco start-up Rising Forests is helping them offset our environmental and carbon footprint, by planting a tree each time a bottle of St Ives Gin is sold from their gastrobar in St Ives. Together, they've already planted 6,500 new trees in the UK and predict over the next year they'll be able to offset 255,000lbs of carbon. That's the carbon emission equivalent of charging 53 million mobile phones, or driving over a million miles by car. They have recently been shortlisted as grand finalists in the Good Food Reader Awards 2020 in the 'Best Drink' category. There have been over 100,000 votes thus far so they are incredibly proud to make it to the final 4.
Themptation (Stand H39) have recently launched their Organic CBD infused chocolate bars! The UK's leading organic hemp food company. Themptation specialise in certified organic vegan & Free From health foods. After leaving University, (where he spent more time cooking than studying!), Tom founded Themptation with the aim of bringing hemp to the forefront of British food culture. Testing his product ideas at markets across London, it became apparent there was a gap in the market for Themptation and its hemp based goodies. Tom whipped up a variety of products, from hemp chocolate to fresh hemp hummus and pesto. This unique range of products promotes the health benefits of hemp while providing a delicious alternative to readily available processed foods. From its market stall origins, the business moved rapidly online, while supplying local stores and an ever-growing list of stockist across the UK. It's their first time exhibiting the show and they will have goody bags of products for all new business customers.
New to the show Gusto Organic (Stand K43) will be showcasing their multi Great Taste Award winning range of adult focused organic and Fairtrade soft drinks that deliver complexity and flavour with ingredients of great provenance. Their latest drink, an exquisite blend of Yuzu fruit and Sicilian lemons will be sampled at the show. Gusto bottle their range outside Exeter with spring water from the local hills and sell their range in premium outlets that include Fortnum & Mason, the Chiquito chain of restaurants, John Lewis, Better Food Co and in farm shops, pubs, restaurant and premium grocers across the UK and in 8 countries.Gusto Organic was founded by Craig Sams, founder of Green & Blacks chocolate and William Fugard, CEO and chief flavour-meister and has been on a mission to give delicious alcohol free drinks choices to customers tired of child focused and predictable main stream soft drinks. Ethical, organic and made in Devon, Gusto are a great fit for the show.Media
Colwith Farm Distillery's (Stand J38) Stafford's Cornish Dry Gin won Gold Medal at Taste of the West 2019. Their Aval Dor Vodka won Gold Medal at the Taste of the West 2019. It also won Silver at the San Francisco World Spirits Competition, Best Vodka in the World 2019! Every step of the vodka and gin making process is lovingly carried out on the family's fifth generation farm in Lanlivery. The Colwith Farm Distillery project was part funded by the European Agricultural Fund for Rural Development. The project diversifies the family farming business by creating Cornwall's first plough to bottle vodka and gin distillery, complete with Visitor Centre. Producing premium spirits represented the perfect way to add value to the crops produced on Colwith Farm.
Supplier of chilled and frozen Lutosa chips from Belgium, the County Chip Company (Stand J27) will be showing off several new frozen chip products at the show, including their Skin On/Off Dipsters – cooked in Sunflower Oil and with a higher dry matter content this is a perfectly crispy 'dip & eat' style chip, and their Cajun Fries – deliciously spiced 10/10 mm Fries delicately flavoured with cayenne pepper, onion and garlic.
Clear-flow (Stand L16) have recently and successfully completed the highly publicised 'Fat Berg' project in Sidmouth. The specialist drainage company, whose head office is near Redruth, were working on behalf of their clients, South West Water. The mission was to remove two massive deposits (the largest seen in the South West Water area) of fat, grit and unflushable material such as wipes that had built up in the sewers. This was a complex operation involving cordoning off the highly visible site right on the sea front. Clear-flow's team of 6 highly trained individuals were then able to effect confined space entry into the sewer network wearing full breathing apparatus and dry suits as a precaution against harmful gases and the sewerage flows. Their job was to break up the 'fat bergs' with high pressure water jets and manual labour prior to the waste being removed by one of Clear-flow's specialist tankers which was then driven to a suitably licensed disposal site for correct disposal.
Returning to the show with their Award winning Dappa, Devoncello, and Gin, Devon Distillery (Stand K46) are expanding their range and they now have Dappa Dark Fire, their Dappa that has been aged in a sherry barrel. Devon Distillery is the UK's first and only micro distillery creating grape-marc-spirit, Dappa. Like it's Italian counterpart 'Grappa', it's a smooth after-dinner tipple with a beautifully warming effect. In 2019 they received awards from Food Drink Devon, Taste of the West, Great Taste and IWSC. Why not pop by their stand and ask them about their new project – the Devon Rum School, their #bigyellowrumbus! They will be talking about their mobile distilling and how they can make you your own spirits.
New to the show this year, Be the business (Stand K23), are an independent, non-profit making organisation providing free and subsidised resources, events and learning opportunities to help small/ medium sized businesses become more competitive. Their mission is to build communities, currently in Cornwall, of local hospitality business leaders who are inspired to work "on their business" – sharing successes and challenges and being open to providing and receiving support as part of a local network. Visit them on K23 to find out about their masterclasses, and to see how they can support your business.
This is just a handful of the exhibitors you can meet at the show – and you can find out all about the others by checking out our exhibitor list. Why not register for your free trade entry ticket now, plan your visit, and we'll see you there!