Some of the fantastic 'show exclusive' offers for you to take advantage of (don't forget to ask other exhibitors too!)
Antonelli J19
www.antonelli.co.uk
@antonellibakery
10% show offer on MEC3 ingredients for ice cream.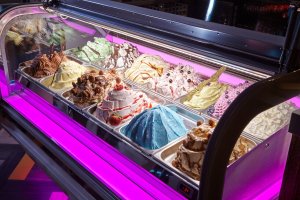 Boddingtons Berries E23
www.boddingtonsberries.co.uk
@Boddingtons__
Offering 10% off any orders placed and paid for on the day.

Clearbrew Ltd H29
www.clearbrew.co.uk
@clearbrewltd
A full free cellar check and full free line clean and quote of the complete dispense system. Plus a free Raffle for a 9 gallon cask for any visitor to their stand.

Cornwall Vacuum Services Ltd H37
www.cornwall-vacuums.co.uk
Holding a competition at the event just enter with your business card (or your contact details) for a chance to win a ticket to the Hangloose skywire situated at the Eden Project.

Jamm Products Ltd J2
www.jammproducts.com
@jamm_products
10% discount on all show orders.
Type in ExpoWest at checkout on our online shop – valid until 6th April.
St Ives Brewery J46
www.stives-brewery.co.uk
@stivesbrewery
Buy two get one free on cask ales purchased through LWC for all new customers of St Ives Brewery beers.  Boilers Golden Ale 4%ABV, Knill by Mouth Pale Ale 5%ABV & Harbourside Light Ale 3.8%ABV are all included in the offer
Buy 10 cases of bottled products and receive a free case of Cornish Golden Lager for all new stockists of St.Ives Brewery beers.

KAFFE Direct H3
www.GB.mysiselkaffe.com
KAFFE Direct – UK Launch
Competition to WIN £457 (retail value KAFFE) – plus automatic registration as 'Founding Member' into "Preferred Customer' Home Delivery Loyalty System – getting paid while families enjoy drinking KAFFE at home – NO expensive machine rental – completely compostable cups.

Menu Shop J6
www.menushop.co.uk
@TheMenuShop
Offering 10% discount on all show orders.
myCornwall L33
www.mycornwall.tv
@myCornwall_
Make your brand stand out with myCornwall magazine's special show offer of 4 x 1/4 pages adverts in any issue of myCornwall magazine for just £650.
Visit the myCornwall stand L33 and put your business card in the bucket to win advertising package worth £750.

Skinner's Brewing Company Ltd H38
www.skinnersbrewery.com
@Skinnersbrewery
Order any 5 cases of Skinner's bottled ale and receive a 6th case of Skinner's Lushingtons or Betty Stogs free! (All cases must be delivered in one delivery).
Order any 5 Casks of Skinner's draught ale and receive a 6th cask of Skinner's Lushingtons or Betty Stogs free! (All casks must be delivered over a maximum of two separate deliveries on agreed dates).
To qualify for show deals, orders must be placed with the Skinner's sales team during the Expo show days.

More show features: